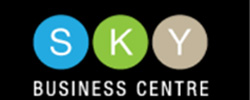 Sky Business Centre is a new and innovative workspace & services provider opened. Their goal for this project
was to create a premium office that is designed with quality, sustainability and uber modern architecture & IT
infrastructure used to infuse a relaxed work environment. Providing our guidance and expertise, I helped them
to realize new ways of using shared office spaces, and to promote a friendly community atmosphere within the
business center.